In episodes 2 and 3, we learn that New Orleans Kanye has a really high tolerance for the New Orleans heat, Reagan finally tells her husband she's moving to the French Quarter pied-a-terre without him, and the gang doesn't know how parties work.
After a few really boring scenes, our lives are temporarily hijacked and we are taken on a first date with Jon and Jasmine, a faux Kylie Jenner he met on Tinder (i mean, an event in Chicago) and whose voice rivals Reagan's in annoyingness.
At dinner, they discussed past relationships and "being in each others' company for the rest of the night," which back in my day was a simple "let's go watch a movie." Somehow, an invitation to watch a movie at 3 A.M. after F and M's seemed less creepy than Jon's invitation, but I digress.  Jon also let's us know that he doesn't want to get married until he has a "consistent 10 million dollars" in the bank, to which I say, "I want to live on your planet where this is a realistic thing to believe." That's not to say that he won't be successful, but I think he's using this line as an excuse for not having to commit. Like ever.
I can't imagine how weird it must have been to be their bartender or even an actual participant of this date, because I was bored just watching the highlights on TV. I have to believe that there's a reason the producers took us on this weird journey, so I hope the show lasts long enough for us to find out why.
In other weird relationship news, Reagan and Jeff tour a French Quarter apartment, where Reagan gives Jeff a reality check and tells him that he won't be joining her at their new pad, so she can study and get away from him and the fumes of his hair products. 
Later on, he mentions that his feelings are hurt because she's basically leaving him and reminds her of a few other issues he's currently dealing with (like being cut off by his family and dealing with potential brain injuries from playing football…no biggie), to which she responds with one of those non-apology "awww I'm sorry you feel that way" apologies and suggests that he go to therapy to deal with his issues. So, they're doing great.
We also meet Gian, Tamica's arch nemesis who is "more popular in her own mind" according to Tamica.  She is on the board of several non-profits, an entrepreneur and friends with Jon, which leads Tamica to believe that Gian is slowly tying to become her. It looks to me like Gian might be too busy to actually Single White Female Tamica, but even if she did, Gian would still be the most stable of all these psychos.
Jon and Justin meet for drinks at The Delachaise on St. Charles (insert 57 New Orleans clichés about the big houses and streetcars here), where they discuss a guys night out that Jon has planned for them. Wearing a tan turtleneck in a million degree weather and referring to himself as Steve Jobs, New Orleans Kanye tells Justin that they will be "channeling their inner Picasso" at a painting party, then drops a bunch of confusing tweets to sound all philosophical.
On the night of the party, the guys show up at a random house out in Belle Chasse for the guys-only panting party, where they only have warm tequila, champagne and classy hot pink plastic champagne flutes emblazoned with the word "LIFE" as their provisions. After a few warm shots on empty stomachs, the men are introduced to their easels and their subjects.  Their painting subjects turn out to be naked women and not the fruit bowls they were anticipating, to their surprise.  I have to wonder why these men are so surprised by this. Have they even met their friend Jon?
Anyway, the door bell rings at about the stroke of 9 with Jon's second surprise of the night: more ladies.  As the men awkwardly paint, a flash mob of about 20 female extras (I mean, guests) arrive, casually filing into the party in a line, as guests naturally do at parties.  I wish they could have done a better job of acting like this wasn't completely staged, but alas we are instantly reminded that this is a reality television show. 
Meanwhile, Reagan and Tamica are drinking dinner at Annunciation, and they start having a heated argument over their marital issues. Tamica has made it clear that she doesn't agree with Reagan's move to the French Quarter, and we learn that Tamica and Barry had temporarily separated before; although, it was because she had post-partum depression and not for completely selfish reasons like Reagan. However, they agree to disagree, and start bonding over how they secretly track their trustworthy husbands.
In an effort at self-preservation, Barry texts Tamica to let her know that Jon had hired a bus full of extras from Crowds on Demand for the party, sending the two women into a frenzy of hand gestures and expensive Uber rides out to the West Bank (because that's where Belle Chasse is. I had to Google it.)
Two minutes later in TV time (and an hour later in real time), they arrive at what was probably the most awkward party in the history of parties.  I mean, it can best be described as a bar mitzvah after party chaperoned by two topless women. 
It seemed pretty boring and uneventful honestly, until Reagan and Tamica drunkenly crashed the party to yell at them like hyenas, prompting all the female guests to leave (probably because they all rode together in the same clown car). So, everyone is drunk and yelling, and that's where it ends.
 Until episode 3, which is part of this recap, so no need to wait in anticipation. 
Episode three picks up as they are all leaving Jon's party, and we witness a drunken argument between Reagan and Jeff on their epic journey home from Belle Chasse, which we learn has no cell phone service. THAT'S HOW FAR AWAY IT IS. Reagan tells Jeff that he's been dinking too much and she suspects it's from dealing (or not dealing) with all his issues (great observation, Dr. Reagan), and Jeff loses it because he feels like he's becoming a disabled football player. The argument prompted Jeff and his painting (because let's not forget that he was just channeling his inner Picasso at a painting party) to storm out of the car on the highway, and start making a run for it – away from his wife (read: problems). Tamica comes to the side of the highway to console a distraught Reagan, while Barry finds Jeff still 70 miles away from home and gives him a ride to the French Quarter apartment.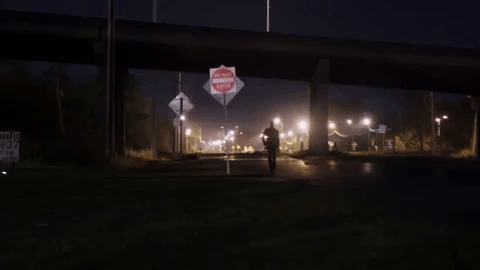 The next day, Reagan finds her husband sleeping on a cardboard box in HER apartment like some sort of squatter with his hair somehow looking more hungover than he does. They apologize to each other and he admits that it's time for him to get some professional help. Reagan suspects that this episode is a result from head trauma sustained during his football playing days or maybe even an emotional reaction from internalizing all his family issues. Nevertheless, she tries to console him by telling him that she will be packing her bags and moving into her unfurnished condo for a bit, effective immediately.  
Another thing that happens is Barry and Gian, Tamica's arch nemesis if you're following, meet to discuss a possible business partnership to help him build Fuel Fitness. This, I can assure you, will not make Tamica feel threatened at all. Not at all.
Later on, Reagan throws a party to promote her ugly door knocker jewelry line at Cellar Door.  The whole gang is there. Jon and his abs show up with faux Kylie Jenner, Gian shows up to further infiltrate Tamica's life and Tamica shows up on muscle relaxers, champagne and a rampage.
Before anyone could tell Tamica that the party is about to get more interesting with some Mardi Gras Indians (never mind, that doesn't make it less boring), she decides to drunkenly question Justin about his relationship with his girlfriend Kelsey. She asks him if he thinks that Kelsey is the "one" and uses his vague answer as all the ammo she needs to help save her storyline and this party. Kelsey must have felt her ears burning (or probably just overheard the conversation because they were ten feet away from each other) and walks in, only to be told by Tamica that she doesn't think their relationship will last based on Justin's response (or disinterest in this conversation. Details.)
Reagan, who is also conveniently ten feet away from this conversation, walks over to the trio and asks Tamica to stop making her guests feel uncomfortable because it's her job to make sure everyone is having fun at her party. Tamica excuses herself and takes her drunken talents to the other end of the party, where she asks all the party guests if she's making them uncomfortable. This further makes everyone uncomfortable – Nicelle, Jon's abs, Jeff's fro, the door man, me, the ten other viewers watching this show. 
Later on, Tamica feels like she hasn't accosted all the party guests enough, so she resurrects the fight over the painting party with Jon, causing another scene.  It results in Jon's friend calling her insecure, and Barry chasing him out of the party while threatening to start a fight. But, we all know that's not actually going to happen. And it doesn't. Show ends.
The only thing that I can take from the last two episodes is that I don't throw enough parties with Mardi Gras Indians or start enough fights. I must hone in my Southerness and work on those more.