Another week, another 44 minutes of overused New Orleans nuances, clichés and stereotypes. That's right. It's Southern Charm New Orleans .
In episode 4, this native New Orleanian (that's right. It me.) goes on her first swamp tour, along with all the other actual New Orleanians watching this show. I, personally, like my tablecloth lunches to be at Commander's or La Petite Grocery, but I guess you're not really an actual Southerner until you've had one on a swamp pontoon.
The episode picks up on the day after Reagan's party. Barry is staring at himself in the mirror while reevaluating life, Jon is pumping iron at Fuel Fitness (PRODUCT PLACEMENT, PEOPLE) looking like Bane from Batman, Carrot Top is wittling some doorknocker jewelry on a table made for ants and Nicelle is setting up a folding table for a ladies' lunch at her home.  I wish I could say I was making this up, but it's what happened in the opening montage.
Over at Amici on Magazine Street (that is no longer there, in case this made you crave pizza), Justin, Barry and Sonny (Tamica's brother) meet up to reassess the events from the night before.  There, we learn that Barry called Jon's friend a homophobic, derogatory slur, while chasing him out the party. No one actually heard him use the word, but in an effort to create some sort of drama or an eventual PSA, he admits to having said it.  The friends suspect that he was neither calling this dude a bundle of sticks nor ordering a traditional English dish, so they are disappointed by Barry's use of the word, regardless of the circumstances. Justin likens it to a white person using the N-word. However, Barry acknowledges where he went wrong, apologizes and orders a Carne Lasagna.
Over at Nicelle's, the girls are also reevaluating the night, only in a less rational way. Reagan tells Tamica that she is frustrated with her for using the boring jewelry party to create a storyline as the resident pot stirrer, thus taking the cameras away from promoting her doorknocker jewelry. But, as we all know, that's not how Bravo works, Reagan. This makes Tamica defensive, because she's not one to apologize for just being honest.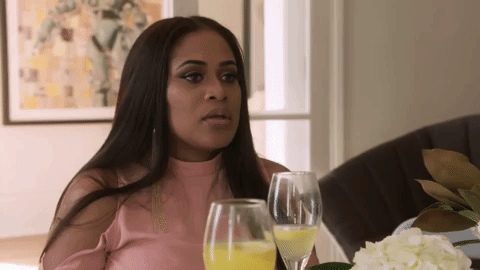 The ladies start arguing, hands start flailing and poor Benny Poppins (Nicelle's coffee cocktail maker) can't even figure out if any of the crazies needs her mimosa replenished.  Then, trying to defend that she is neither loud nor abrasive, Tamica loudly and abrasively stands up from the table and abruptly leaves Nicelle's house before Benny Poppins has a chance to even serve his famous coffee cocktail. 
Back at Amici, the guys tell Barry that Tamica seems to be the common denominator surrounding the group's recent conflicts.  I have no idea what gave them that idea, but this news should go over smoothly with Tamica.
Even though no one (including myself or the tens of viewers watching) actually heard Barry call someone, um, "a bundle of sticks," we learn that Gian did. She meets with Barry to tell him that her reputation is more important than building a fitness brand with the discriminatory person he isn't, and decides to end their partnership. This is a bit of a setback for Barry's business, because Gian is clearly very successful since she rolled up in her Mercedes G-Wagon and dignity. Hopefully, this isn't the last we'll see of Tamica's nemesis.
Anyway, later on, Tamica meets with her cousin/right arm/other husband (that's not weird at all), Jared, so she can drink lunch. Tamica orders a "French 75. Wait, what time is it? 11:30 A.M. muhahahah oh, it doesn't matter," and tells Jared all about the recent drama. In her version of the story, people are just upset with her for telling the truth. Jared knows her well enough to decipher her craziness at this point, and knows that she really just went off on a few unsuspecting people. He advises her to reevaluate how and when she approaches her truth telling. This is the exact same advice everyone else has given her, but she finally starts to listen this time, prompting her to kick off her apology tour.
The apology tour kicks off with Nicelle. Nicelle is at home casually gardening in a dress, when Tamica pays her a surprise visit.  If you ever drop by my house unannounced, you'll find me watching Bravo in my yoga pants, but here's Nicelle chopping up hedges with her Restoration Hardware shears and baskets like she's Martha Stewart, while Benny Poppins brings her coffee cocktails. Tamica acknowledges that leaving the lunch so abruptly was classless, but doesn't actually apologize because, as we've learned, Tamica Lee does not do apologies. Ever. That's beneath her.
They go back to drinking coffee cocktails, because who sits in a garden without drinking coffee cocktails besides peasants, am I right? Tamica realizes she needs to find a way to make it up to the gang without actually saying the words "I'm sorry," so they scheme up a plan to host a lunch slash booze cruise on a swamp. Turns out, Nicelle is a certified swamp tour guide because she apparently goes on them all the time as tour guides do, and also has a butler who would love nothing more than to spend a day on a boat serving these lunatics. So, it's settled. Nicelle even spontaneously, and not ironically, comes up with the event's theme: Out of Africa. What better way to bring your friends back together again than on a boat surrounded by alligators, with no escape? I can think of a million, but this is going to be amazingly weird so I wouldn't tell them that.
Finally, it's the day of the racially insensitive swamp luncheon. Nicelle congratulates herself on her situational outfit (a safari-inspired dress) for the Out of Africa theme, she compliments Tamica on her (unintentional) Out of Africa-inspired outfit and Benny Poppins wants a Xanax or a just a one-way ticket OUT.
I am now going to interrupt the play-by-play to bring attention to the show's unsung hero – Benny Poppins.  His comments and eye rolls are the most relatable part of this entire show, making him the real star. That, and he always keeps the drinks filled. I personally hope he gets his own spin-off, where we see the entire season from his perspective –  complete with his inner monologue. 
So, meanwhile in Metairie, the rest of the gang gets together at Barry and Tamica's to carpool over to the swamp in an airport shuttle van. They talk about what they'll eat. Possibly alligator, someone suggests, which is when we learn that Justin is an Alligator savant and starts reciting all the ways to eat Alligator like he's Bubba Blue from Forest Gump. Alligator sausage po-boys anyone?
Back at the swamp, Nicelle is decorating the table with her Out of Africa decorations that she probably stores in her table decoration room, and Tamica is asking the boat captain how to speak "swamp." I'm already really uncomfortable watching this, and the party hasn't even started yet.
Once Nicelle has made the folding table look like it came out of the Williams-Sonoma Christmas Catalogue, the guests arrive in the church van and Jon arrives with Gian in a car.  They were probably the only two people who were smart enough to realize that Metairie is definitely not on the way to the Westbank, but I guess that's not important. Anyway, glad to see Gian hasn't been completely exiled from the group yet.
Once the boat embarks, Tamica makes a really long non-apology apology.  And, I suppose, her friends apparently accept this pseudo apology-ish thing she made. Then, the heat gets taken off Tamica when the attention turns to Barry.  Barry, who lives on some other planet that's not Earth, didn't realize how hurtful his remarks were, even though we still haven't heard him say it. The boat ride, which I was hoping would become a Tamica takedown of sorts, turned into an after school special with each of the men telling personal stories about their struggles of having to defend their masculinity, which has nothing to do with why you shouldn't throw out derogatory slurs that may offend an entire community of people.
Jared shuts down this snooze fest, because he's probably also tired of each dude taking turns trying to make this about themselves, and reveals to us that he is gay and has a personal daily struggle with this word. It was actually the most honest part of this whole storyline.  I feel like Barry could have learned this lesson by simply talking to Jared first, instead of having to go though the past 37 minutes of this show, but whatevs. Jeff brings the attention back to him by sharing with the group that he's going to therapy. Yay everyone is happy now.  
Then, at the champagne after party, Rachel, a friend whose husband is also an ex-professional football player, warns Reagan that she needs to stick with Jeff in his time of need.  She also mentions that moving to the French Quarter without Jeff would lead to divorce.
On the next episode, Reagan packs for the French Quarter faster than you can say, "sign here on the divorce papers."
Kidding. I don't know about that. I do know that the gang does more New Orleans things that people who actually live in the city never do, like visit a haunted plantation.  I feel like we might be approaching the end of the season soon, because I can't think of more New Orleans things for them to do for the remainder of this show.