You may or may not know this already, but even though I call NOLA home I'm (Alessandra) originally from Guatemala City, Guatemala. I've lived in New Orleans for the past 4 years and have fallen in love with the place and the culture, but it's always fun whenever I get to share some of my culture with my friends and Babes & Beignets fam. With Guatemala's (+Mexico's & other Central American countries') Independence Day just a few weeks away, I thought it would be fun to show y'all why my fellow Latinx and I throw the best parties 😉
5. The Music & Dancing
This year, you may have gotten a taste of why music in Spanish is so much fun 😜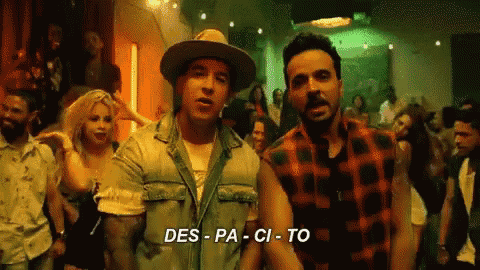 From reggaeton, to bachata, and everything in between, our parties will always be filled with great music and of course lots of dancing. #BabesTip: if your Latinx babe or bro invites you to one of their parties, wear comfortable shoes that you can dance in, even after you've had one too many shots.
💃🏻
4. The Delicious Food
We're "grown ups" now and we definitely get extra excited about a party that will have food. Latinx parties will always have great food in HUGE quantities. I don't know what it is about us, but we're always going to make sure everyone gets to eat A LOT.

Whether it's tinga tacos, or guacamole, or a badass cheese plate, you're in for a feast at a party hosted by a Latinx babe or bro. Don't have lunch or dinner before coming to our parties, we won't take no for an answer.

3. The Fabulous Drinks
From margaritas on the rocks, to fruity frozen drinks, and spirits with exotic flavors, you're always going to find good drinks at Latinx parties. Plus, we will also always have lots (and I mean LOTS) of drinks.


#BabesTip: Latinx can handle their liquor 20x more than New Orleanians. You've been officially warned. 😂
2. The Guest List
Everyone's invited! RSVPs? +1s? That doesn't really exist at Latinx parties. Whether you bring your best friend, your boyfriend, your whole family, or you bring yourself + a bottle of liquor, you'll never be judged or turned away. The motto is always the more, the merrier!

Guess that's why we always make tons of food for our parties… 🤔🤔🤔
1. The Culture
Latinx people are very friendly, open and will try to talk to just about anybody, especially at a party. Whether someone's from Guatemala, Nicaragua, México, Honduras or El Salvador, you'll notice that aside from sharing the same language, our cultures tend to be very similar, fun, loud & colorful.
We share many things and we love to share these things with the world, which is why we decided to partner with Felipe's for Fiesta Fest – a weekend-long celebration of Mexico's and Central America's Independence Days.
Along with Avión Tequila, Son of a Saint, and Coca-Cola, Felipe's will be throwing parties in both Mid City & Uptown locations to celebrate with their Latino team members and the Hispanic community in NOLA. These parties will also raise funds Son of A Saint, to help the organization make more connections within NOLA's Latinx community and in turn begin working with more young Hispanic men.
The first celebration will take place at Felipe's Mid City on Friday, September 15th, from 5PM-midnight. This party will feature music from Jose Fermin Ceballos y Orquesta featuring Merengue4-FOUR live on stage from 7pm-10pm. And of course, there will be a taco cart serving Al Pastor tacos and some of the best rocks and frozen margaritas in NOLA. For more details and updates visit the Facebook event.
The second Fiesta Fest celebration will take place at Felipe's Uptown on Saturday, September 16th, from 5-9PM. This party will feature music from Papo y Son Manao live on stage + salsa dancing, and plenty of tacos and margaritas! Felipe's will also be celebrating the grand opening of their newly renovated patio at the Uptown location. For more details and updates visit the Facebook event.
Y'all seriously can't miss these two fabulous parties celebrating the amazing Latinx community in New Orleans. Bring your babes, bring your bros, bring your family and prepare for weekend you won't ever forget (unless, of course you have too many shots of tequila 😜😜😜).
Salúd,
XOXO
PS: Check out our Instagram. We're giving away a few Felipe's giftcards so you can buy all of the tacos and margaritas during Fiesta Fest.
This post was sponsored by Felipe's Taqueria New Orleans. All opinions are our own.