We're back at it again! Providing you with an answer to the FAQ: "What are your top places to go right now?" Before you dive in to the world of Yelp and Google reviews, take a look at the places I can't get enough of.
Brunch:  Willa Jean
611 O'Keefe Avenue
We've said it before and we'll say it again, Willa Jean brunch is not to be missed. Fresh baked pastries plus belly-filling meals that are sure to soak up any hangover. Yes please. Be sure to get a reservation or be prepared to wait a moment because this place fills up quickly. If there aren't any tables, try sitting at the bar, ordering some frosé and be ready to be rolled out of there!

Lunch:  Seed
1330 Prytania Street
I love a bright and bustling place for lunch. It makes you feel that you could run into anyone! As a vegetarian, I love Seed for lunch (I also work in the Lower Garden District and try to get there as often as possible). Believe it or not, some of my meat-eating friends have joined me and actually….gasp….enjoyed it. There's nothing worse than having a heavy lunch and then having to go back to the office. Enjoy something filling and energizing at Seed.

Happy Hour: Chiba
8312 Oak Street
We're a very lucky bunch! There are so many happy hours to choose from in New Orleans. Sure you can go to Taco Tuesday or get 50 cent oysters but that's only for a few hours. I'm on a budget people! I need happy hours that are 1) Still happening when I get off work at 6 and 2) Have food and drink options that I can turn into actual dinner. Chiba on Oak Street accomplishes all of these things. They have happy hour ALL DAY WEDNESDAY with discounted bites, beers and cocktails.
Date Night: N7
1117 Montegut Street
Ironically enough, I always find the best date spots in the city when I'm out with all my girlfriends. I have a group of gal pals that I spent the summer in France with and every year we get together to drink French wine and eat cheese while reminiscing that glorious summer. This year, my pick was N7. Hidden behind wooden walls in the Bywater, this place is the perfect spot to bring a date. There is a spacious courtyard as well as an adorable bar and seating area. Chickens in the backyard, a vintage cruiser in the driveway, string lights and amazing wine list, you'll feel like you've escaped to an eccentric grandmother's house in the French countryside. They offer fresh soup and cheese options, and their signature item which you'll either love or hate: canned food items. They come from all over the world so there's quite a variety. Keep an open mind and a full-glass to have a splendid date night.

Late Night: Molly's at the Market
1107 Decatur Street
Late night, to me, means open late with food for my drunk ass to munch on and company that will let me wax poetic through my vodka soda. I find all of these things at Molly's at the Market. As someone that worked in the French Quarter for honestly too long, Molly's holds a special place in my heart.  It is just an easy going place with a jukebox, Indian food pop-up, but my favorite part? Go late enough and you see the musicians trickling in after their shows and they all start to jam in the back. Live music with no cover, that's as authentic New Orleans as it gets.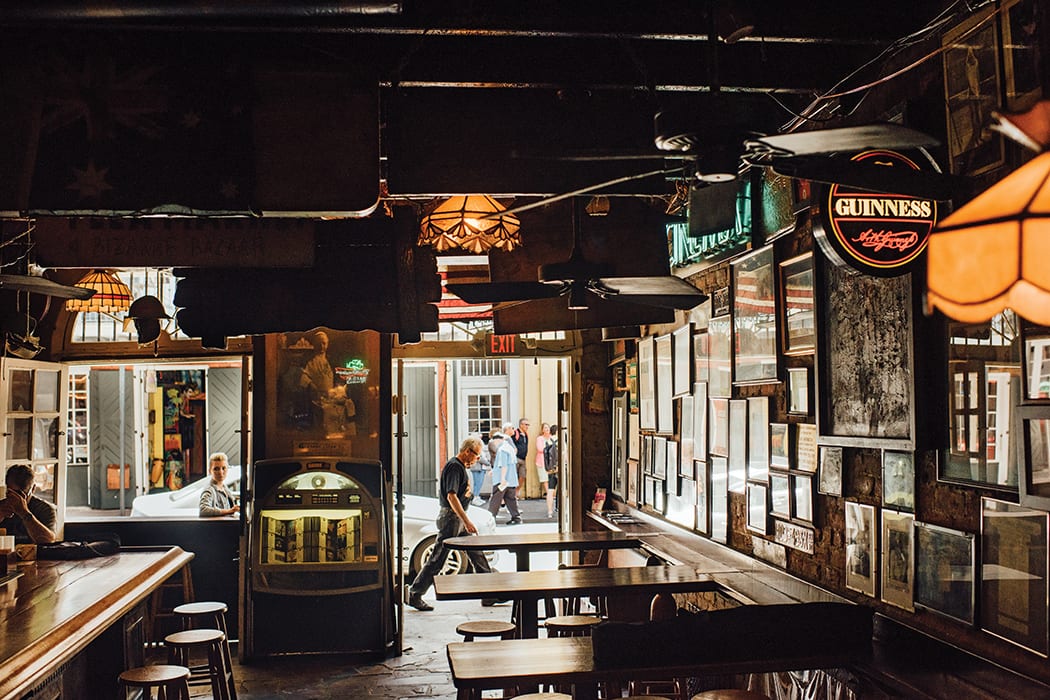 Be sure to tell us some of your favorite places in the city in the comment's and we might feature them in the next go-to series post.