Last year Americans ate over 4.5 billion tacos, and we probably contributed to at least 25% of that number! Tacos can be eaten on other days than just Tuesdays, and for any meals throughout the day. Today is National Taco Day, and you guessed it –we're going all out, and you should too. We're here to dish where you NEED to eat a taco (or 10) today.
Alessandra, The Taco Belle
One of our closest friends once told Maggie and I, "Wow, you guys really do love tacos." And he was right. It's really hard to pick my favorite taco in New Orleans because there are so many good ones, and I'd even include some Taco B in my top favorites #NoShame. But, for all of you reading this looking for a bomb spot to eat Tacos, here's where you need to go:
Catch the Taceaux Loceaux Truck, you can check where they are by following them on Instagram
For when I'm on a budget, I'm all about that Tacos & Beer Happy Hour. From 3-6, all tacos are $1!!! You could seriously #TreatYoself to 10 tacos with $10. My favorites are the Tinga tacos with a side of guac.
If you're looking for the most authentic Mexican experience New Orleans has to offer, I'd go to Taqueria Guerrero in Mid City. Anything you order will be delicious, make sure you get some Horchata to go with your order.
Margarita Loves Taceauxs
I was gonna tell y'all the same story Alessandra did. Our friend Gerry was right, we're obsessed with Taceauxs!
My all time favorite tacos in NOLA are, you guessed it, also from Taceaux Loceaux. The "Messin With Texas" Brisket Tacos are my jam. Don't miss the Avocado Fries as well. They run out very quickly, so get out there NOW and follow the TL truck!
Alyssa, Borrega Babe
Four words for you: Casa Borrega's cochinita tacos!!!!
Cochinita Pibil = Pork. YUM
Manola Mezcal Mama
I like Rosa Mezcal's tacos the most – they definitely feel the most freshly made and the ingredients are original and interesting. They used to be BYOB but now you can get awesome drinks there, the ambience is also pretty cool.
Second is Casa Borrega, if only for the music and because it feels like the most authentic place to get tacos in the city. (My mom is from Mexico so trust me, I know what I'm talking about when it comes to authenticity).
Jen, Happy Hour Gal
La Casita has a great happy hour and that cool warehouse district vibe! Happy hours everyday 3-7 with $4 margaritas, +1/2 off guac/salsa/queso, and $2 tacos!
Can't go wrong with that.
Sara, Burritos in Broadmoor
I'm going to stay consistent with the restaurant that tops pretty much all of my favorite NOLA lists (brunch, Mexican food, etc.): El Pavo Real. They have three kinds of tacos: fish, chicken tinga, and chipotle hanger steak, and all three are out of this world! While it usually tends to fly under the radar, possibly because it's kind of buried in a residential area in Broadmoor, it has hands down some of the most delicious truly authentic Mexican food in the city. And if you happen to be hungover it is literally a life saver. It has brought me back to life several times on a weekend!
I'm also definitely with Manola on Casa Borrega, although every time I go there I can't help but get their quesadilla. #obsessed.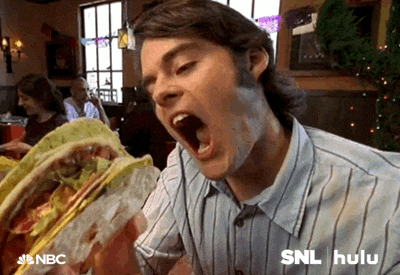 Dominique's Seafood Diet
I love the Diego's Fish taco from Velvet Cactus.
It comes with grilled or fried tilapia, creole slaw, pickled red onion, pico de gallo, cilantro and is topped with chipotle aioli!
PS – The Velvet Catus has some KILLER Margaritas and a fabulous happy hour. Their daily specials for Happy Hour vary; one of our favorites is their Wednesday 2 for 1 Margarita Happy Hour.
Morgan, Queso Queen
My favorite spot to get tacos is Felipe's. Juan's and Taceaux Locaux are also some of my favorites. I always get the redfish tacos from Juan's with the spicy slaw. They're grilled so its a little healthier (I don't know if having 7 makes them healthy though). Also, anything doused in queso is good in my book.
If you're not in the mood for classic tacos today, don't forget Ba Chi Canteen's "bacos" a combination of the bah mein and taco. Yummmy.
A wise woman once said, "Do you wanna do something fun? Wanna go to Taco Bell?" And although we sometimes indulge in the 2AM trip to Taco Bell, there's more to life than Quesaritos. So get out there, indulge in a delicious taco, get some guac (we know it's extra). And even if you end up at Taco Bell, we're not here to judge.
Salúd!