Jazz Fest is one of our favorite times of the year (in fact, our very first blog post was about Jazz Fest #GoodTimes). With all of the other festivals, wedding season, and spring traveling, attending Jazz Fest can be challenging because well, you can go broke!
Don't be discouraged babes, it's all about strategizing and planning ahead. You can attend Jazz Fest on a budget & still have a fabulous time!
Buying Tickets
The line up this year is SO freakin' good, we really wish we could attend every single day but at $70+ per day, you have to pick and choose. Pick a day that you can actually go for the entire day so you get a bang for your buck, and of course pick a day in which you'll enjoy more than 1 artist.
Now, where to buy the tickets? We all hate those $15 + fees from online ticket retailers. Your tickets always end up being waaaay more than what you budgeted for. But, we've figured out a little hack for Jazz Fest: get them at the Smoothie King Box Office & pay in cash. You'll avoid ton of fees and just pay $75/ticket. For more info and box office hours go here. #winning
Getting There
Parking at Jazz Fest can be a nightmare; there's either no spaces or getting a spot will cost you $$$. Of course,  there's always Uber but the surge price might not be so budget-friendly. Take public transportation instead. Yes, it'll take a bit longer but you'll save a lot of the time you'd spend finding parking and you'll save lots of cash.
Download RTA's GoMobile app and buy your passes on your phone ($3 for a one-day Jazzy Pass, or $1.25 each way). If you don't normally take public transportation and have NO idea what lines you should be taking, fear not. We did the research for you,
Coming from the French Quarter:

Canal Streetcar Line -Stops 4 blocks from the Fair Grounds' Gate

Coming from Uptown / River Bend:

Bus Line 32-Leonidas -Stops 4 blocks from the Fair Grounds' Gate
Bus Line 90-Carrollton- Stops 4 blocks from the Fair Grounds' Gate

Coming from Irish Channel / Garden District / CBD / Esplanade:

Bus Line 91-Jackson/Esplanade -Stops 2 blocks from the Fair Grounds' Gate

Coming from New Orleans East:

Bus Line-94 Broad -Stops 2 blocks from the Fair Grounds' Gate

Taking the Street Car:

Canal Street Car line – Stops at Beauregard Circle near City Park, about 8 blocks from the Fair Grounds' Gate
Bring A Water Bottle
Unfortunately, you can't bring a water bottle filled with vodka 🙁 . However, you can bring a sealed water bottle or a refillable one so you don't have to spend your hard earned cash on overpriced water. You can find water fountains between the general store and the information booth and inside the Grandstand.
Stay hydrated babes, it'll be hot, hot, hot out in the Fair Grounds!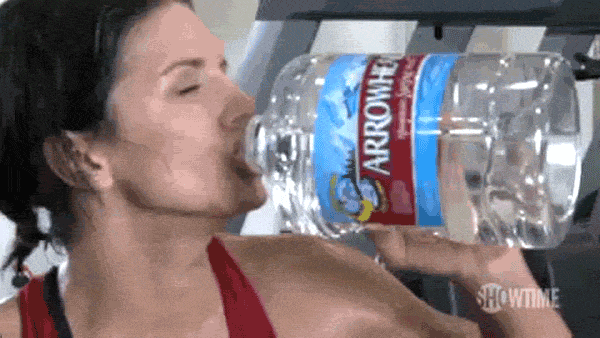 Eating At Jazz Fest
One of the best parts of attending Jazz Fest is eating all of the food. Unfortunately, you can easily rack up a hefty bill when everything is between $8-12. Last year, NOLA.com made a list of the 21 dishes at Jazz Fest that were $5 or less. And yes, they are all delicious. Check out this list and look for the same vendors this year!
Drinking At Jazz Fest
Drinking is expensive babes. Although we don't have a $5 or less list available for drinks, we recommend you either stick to beer or shop around before committing to a $8 daiquiri that might not even give you a buzz.
Phewwwww that's a lot of info. But, cheer up babes you can now start saving a few bucks and go to Jazz Fest without going into serious debt.
Got any more tips for attending #JazzFest2017 on a budget? Please let us know in the comments. And stay tuned for Part II & III of our Doing Jazz Fest Like A Pro series. In the meantime, check out more festin' tips here.
XOXO